Casual Eats in Rome
It's just one of those things that I can't put my finger on ... but Roma has a special place in my heart and keeps on drawing me back.
I land at Fiumicino Airport on a warm afternoon, after another beautiful flight from Dubai to Rome in the Emirates Airbus A380. God, that is an amazing beast. The ride is so smooth, not an ounce of vibration, and so incredibly quiet. I eventually find my transfer driver and we travel into Rome. She stops the vehicle in a narrow street and points to the building in front of us indicating that this is where I'm staying.
There is no sign or visible number on the building. Being unsure about whether this is the right building, I drag my suitcase across the cobblestones to the edge of the street, reach inside my bag for the paperwork which will give me the number for Maison Monte Giordano, my accommodation for the next four nights. Alessandro, who has been messaging me in the days leading up to my stay, answers my call and then says he is looking at me. I glance 10 metres up the lane to see him stepping out of a building and coming toward me. He is extremely pleasant and carries my case up to the 2nd level where his office is located. After the usual formalities of sighting my passport etc, we head further up the stairs to the 4th level where he shows me two rooms and gives me the option to choose the one I'd like.
It's an easy decision - I opt for the room with the most light and two windows opening out over the street below. It's a gorgeous room; bright and spacious, with enough area to store my clothes and a sparkling ensuite. I unpack my case, hang up some dresses and tops, take a quick shower and put on shorts and a t-shirt - ready for the 26 degree temperature outside. Time now to head down and check out the number of eateries right under my nose.
I choose Antica Taverna as there are tables in the sun and I'm so looking forward to soaking up some sunshine. I am warmly welcomed by the waiter as I walk up. I order a birra and he motions me to sit down. A short, young waitress buzzes around, her bra less breasts apparent under her white shirt. She seems to enjoy her job.
The regular jovial banter with her workmate is quite obvious. Good on them, I say. I love to see that.
I sit in the glorious sunshine drinking my beer. The cold weather conditions of home in South Australia are a distant memory and I'm aware of a huge smile beaming across my face. Other diners come and go and I can hear varying accents among them. I order an Aperol Spritz and some cured meats, olives, tomato and cheese for my late lunch.
I can't believe some of the requests I'm hearing from other diners to the little waitress. "This meat is old and hard, its not fresh," I hear from a young woman close by. I think these people shouldn't leave home if they're not going to immerse themselves in the local food and dining culture. I mean, seriously - why do you visit a foreign country? To eat food just like you have at home? Noooo! She is referring to one of the cured meats I'm enjoying. I think it tastes amazing and I thoroughly enjoy the almost jerky texture of it. What a shame she's not relishing this experience as much as I am.
A waiter comes and adjusts the umbrella for a couple sitting across from me. The afternoon is becoming increasingly warm and I'm enjoying it more and more. Pedestrians walking up this narrow street move to the edge as the occasional vehicle drives past. There's red and white chequered table cloths on heavy wooden tables, which are on a slight lean as they follow the camber of the cobbled street.
I wonder what stories these cobblestones could tell as I try to imagine a time gone by.
I derive so much pleasure from finding a casual place to eat, trying something different, having a beer, a local wine or an Aperol Spritz for aperitivo, sitting back listening to people and watching local life play out in front of me. It is a simple pleasure and one that Rome, and Italy in general, delivers on magnificently. See it doesn't take much to please me...!
I eventually decide to get up and go for a walk to explore the area as I have not stayed in this part of Rome before. I head North to the Tiber River and wander across the Ponte Sant'Angelo - the bridge immediately in front of Castel Sant'Angelo, stopping to take photos as I go.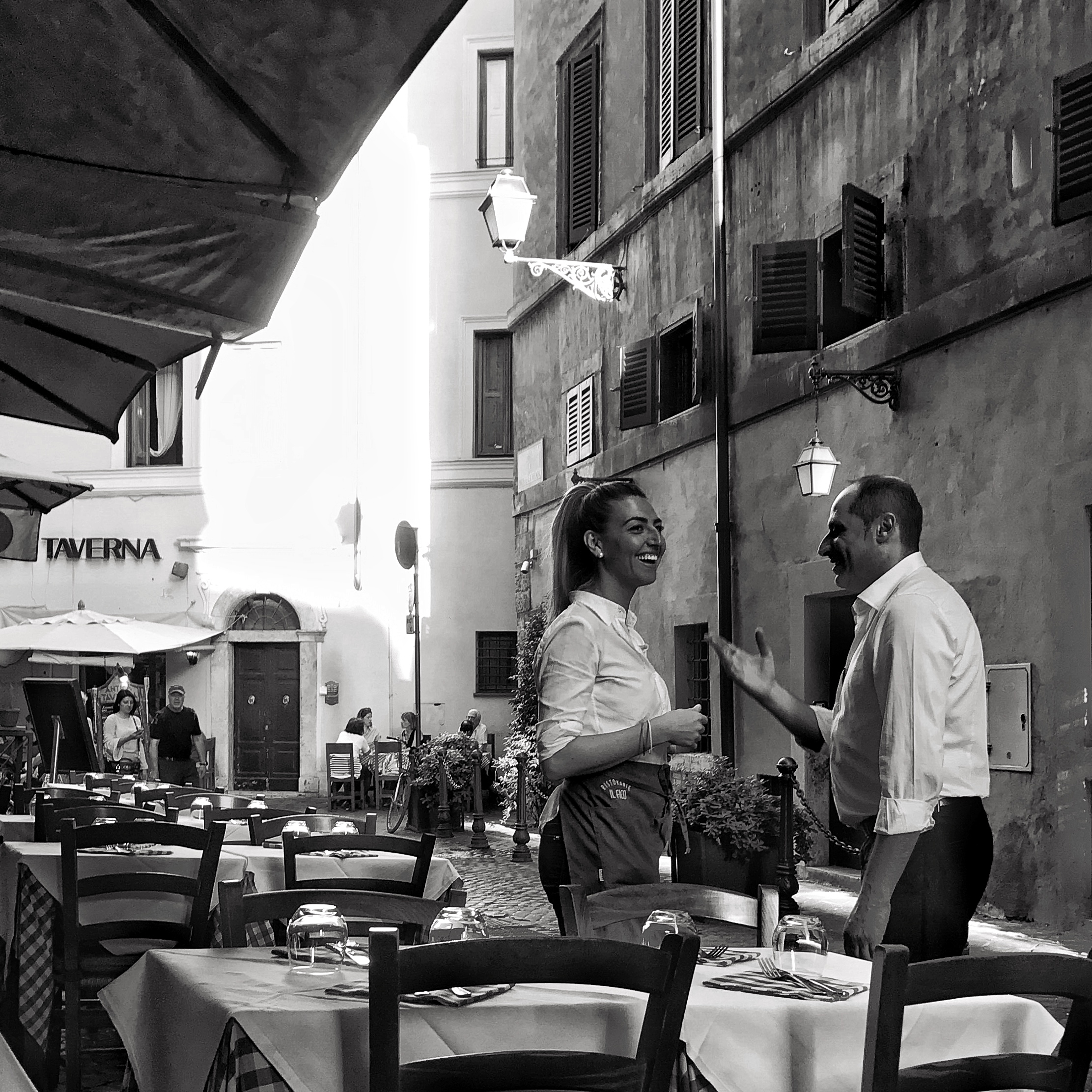 With my body clock still set on Aussie time, I head back to my room for a rest and a freshen up before starting to think about dinner. I'm certainly not hungry, and there is no urgency to replenish nutrients into my body, but I am just excited about finding somewhere for another casual meal and to soak up more of the atmosphere.
This time I chose Il Fico Restaurant which is literally 20 steps from my building. I had fun with a couple of the waiters from that restaurant earlier in the day as I'd walked past. Maybe a single woman is an easy target for their harmless, flirtatious ways, but it made me laugh and I enjoyed the lighthearted, jovial interaction. A quick peak at the menu confirmed it as being an ideal spot.
I order a salmon salad and ask for a glass of white wine. The waiter informs me that they only sell wine by the bottle and not a glass. We enter into a conversation about wine. My basic knowledge of the Italian language is being put to the test as I talk about my hometown of McLaren Vale, in South Australia's premier wine region. In a mix of English and Italiano, I explain that we grow a number of Italian grape varieties including Vermentino, Pino Grigio, Montepulciano and Barbera. He then tells me he will open a bottle of Barbera for me and I can have a glass of that. Perfetto!
So many features, so much activity..... just so much vibe to capture.
Over the next few days I continue to wander around, fuelling my other love of street photography. I pop in and out of cafes and bars, a panino and a glass of wine here, a seafood linguine there, a beer and chips, a cappuccino and a pastry... capture some moments and pass time away writing on my iPad Pro. It provides the perfect inspiration to write.
Cities such as Rome have so much to offer the traveller - so many attractions and activities...and whilst I enjoy these immensely, I can't go past the harmony I feel when I slow down to wander aimlessly and immerse myself in simple street life.
Mi piace moltissimo - I love it!